Product Description
Convert from 12G-SDI to HDMI. Supports all video formats including SD, HD, 6G and 12G-SDI rates and includes down converter when working with Ultra HD as the HDMI monitor will select the best format it can support. De-embed audio to balanced analog or AES/EBU formats and timecode output. Perfect for using HDMI televisions as SDI broadcast monitors and for connecting to video projectors.
Teranex Mini – HDMI to SDI 12G
Convert from HDMI to 12G-SDI. Works with all video formats including SD, HD, 6G and 12G-SDI rates and includes an up converter for converting HD to Ultra HD. Embed audio from balanced analog or AES/EBU and timecode input. Ideal for converting HDMI consumer cameras to SDI, or adding SDI outputs to computers with HDMI connections.
Teranex Mini – SDI to Analog 12G
Convert from 12G-SDI to Analog. Use SD, HD, 6G and 12G-SDI rates and convert to analog video output. Built in down converter lets you connect Ultra HD sources to component video equipment in SD or HD. Allows you to connect analog equipment including Betacam SP, VHS, and video monitors.
Teranex Mini – Analog to SDI 12G
Convert from analog video to 12G-SDI. Convert incoming analog video signals to SD, HD, 6G and 12G-SDI. Ideal for converting your analog devices such as Betacam SP, VHS, set top boxes, gaming consoles and HDV cameras to incredible quality SD/HD/Ultra HD SDI video up to 2160p60.
De-embed audio from any SD, HD or Ultra HD SDI video connection and output 2 channels of analog audio to balanced XLR, optical or HiFi RCA, or output up to 4 channels of AES/EBU digital audio. Perfect for converting and outputting SDI audio to a massive range of audio equipment such as audio mixers, iPods, analog broadcast decks, audio monitors and more.
Teranex Mini – Audio to SDI 12G
Embed up to 2 channels of audio from balanced analog, optical or HiFi RCA, or embed up to or 4 channels of AES/EBU digital audio into any SD, HD, Ultra HD or DCI 4K SDI video connection. Take audio from devices such as audio mixers, iPods and analog decks and embed it into SDI video connections for use with SDI routers and decks.
 Accessories
Teranex Mini Smart Panel
The Teranex Mini's optional premium front panel includes straight forward push buttons and a built in LCD screen for easier set up. The LCD screen also displays the video going through each of your converters! The premium front panel is perfect when you're out in the field or on set without external monitors, or even when you have multiple converters mounted in equipment racks and just want to see what's going through them all!
Teranex Mini Rack Shelf
Teranex Mini are designed to be racked side by side, with three converters fitting in 1RU, six in 2RU, and nine in 3RU. When multiple units are racked side by side, variable speed fans pull from one unit into the next to facilitate optimal air flow. If a fan fails adjacent Teranex Mini will increase fan speed, to prevent overheating! And because they're small and lightweight, you can even mount them in the rear of a rack or road case!
Teranex Mini features a revolutionary design which has been developed to solve problems with regular mini converters. These problems include issues with dissipating the heat generated from high speed 12G-SDI, the cumbersome external power supplies, the inability to use standard XLR connectors and the limited controls on mini converters that are usually crude switches. Mini converters are also generally ugly so are not suitable for use when visible to clients so regular mini converters are only installed in locations where they can be hidden.
Blackmagic Design's new Teranex Minis solve all these problems by utilizing a better industrial design. Teranex Minis are attractive so can be positioned on desktops and they can also be rack mounted. This means, unlike regular mini converters, Teranex Minis are not limited to a single type of installation as they can be rack mounted or used separately whenever the user needs. Teranex Minis are also very small so they can be hidden around facilities just like regular mini converters.
Teranex Minis easily handle the speeds of 12G-SDI without overheating, which means customers get ultra modern conversion that supports all video formats from SD, to HD and Ultra HD. 12G-SDI allows Teranex Minis to operate in all video standards up to 2160p60 which is Ultra HD up to 60 fps all on a single BNC cable. 12G-SDI also means the same converters can be used on all older SD and HD equipment because they simply change video standards automatically.
One of the most innovative features of the new Teranex Minis is they feature an optional "smart" front panel that includes a spin knob, color LCD and multiple buttons. This means the user can simply remove the basic front panel from a Teranex Mini and replace it with a Teranex Mini Smart Panel to allow full setup and control from the front panel. Users can see the video being converted, monitor audio levels and even verify timecode and the video standard being converted. This allows broadcasters to simply walk up to the front panel and change settings and verify conversion, a vital feature when used in mission critical broadcast environments.

Teranex Minis have many other benefits, including a built in power supply, eliminating external power supplies for a totally reliable power connection. Also included in all models is built in Ethernet so Teranex Minis can be remotely administered from a central location using Blackmagic Design's new Converter Utility for Windows and Mac OS X. This Ethernet connection can also power the converter so Teranex Minis don't even need to be connected to power if they are connected to a "Power on Ethernet" switch. This power on Ethernet allows Teranex Minis to have a reliable backup power supply, or multiple units can be powered from the one switch, eliminating all power cabling. This simplifies installation when multiple Teranex Minis are rack mounted.
The new Teranex Mini design also features proper XLR connectors for balanced analog audio, AES/EBU and timecode connections. This means audio connections use the cables the customer already has and the audio connections click and lock in for reliability. Teranex Minis have completely redesigned audio electronics with extremely low noise floor of more than -115dBFS for the highest quality audio possible in a mini converter.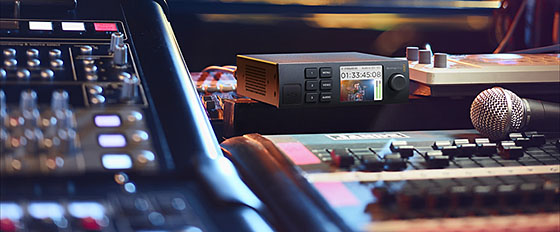 Teranex Minis also include true Teranex up and down conversions. For example, when a Teranex Mini SDI to HDMI model is plugged into a HD based HDMI television, but an Ultra HD 60 fps signal is connected, the Teranex Mini will automatically detect the television cannot handle Ultra HD and down convert to HD to allow the television to display an image.
Built using high quality Teranex video processing technology, Teranex Mini is ideal for all broadcast, post production and professional video applications. SDI re-clocking and low jitter means customers can use longer cables and when converting to analog, Teranex Mini uses 12-bit video processing to ensure extremely low noise. Teranex up and down scaling is used for the highest possible quality conversions between SD, HD and Ultra HD.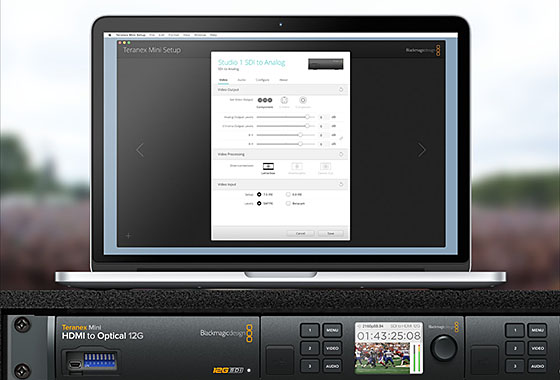 Unlike card based rack converters which are expensive and cannot handle the high speed of 6G-SDI or 12G-SDI, Teranex Minis can be racked in any combination so customers can get exactly the conversions they need, in any video format they need, from now and in the future. The innovative and smart thermal design with crossflow cooling keeps Teranex Mini running perfectly, even when rack mounted side by side and in tough environments with limited airflow.
There are 6 models of Teranex Minis based on the conversion required. These include SDI to HDMI, HDMI to SDI, SDI to Analog, Analog to SDI, SDI to Audio and Audio to SDI. There is also 6 optical fiber models that include a single SDI connection and an 12G-SDI SMPTE compatible optical SDI module. These optical fiber models include Optical to HDMI, HDMI to Optical, Optical to Analog, Analog to Optical, Optical to Audio and Audio to Optical.
Teranex Mini 12G Key Features
Advanced 12G-SDI connections for working with SD, HD and Ultra HD up to 2160p60.
Professional XLR audio connections with low noise floor when used in analog mode.
Broadcast quality analog connections.
Built in power 90V – 240V international power supply for use anywhere in the world.
Ethernet for remote management and back up power over ethernet (POE).
DIP switches and connection diagram for easy setup when Smart Panel is not used.
Optional front panel with LCD screen and push button controls.
Elegant, compact, durable design that can be used in racks, on desktops or mounted anywhere.
Unique crossflow cooling with variable speed fans for quiet, reliable operation.
Optional rack mount shelf for mounting 3 Teranex Minis side by side in 1RU.