Product Description
Camera Features
Effective Sensor Size
18.96mm x 10mm (Four Thirds)
Lens Mount
Active MFT mount.
Lens Control
Iris, focus and zoom on supported lenses.
Dynamic Range
13 Stops.
Shooting Resolutions
4096 x 2160 (4K DCI), 3840 x 2160 (Ultra HD), 1920 x 1080 (HD).
Frame Rates
Maximum sensor frame rate dependent on resolution and codec selected. Project frame rates of 23.98, 24, 25, 29.97, 30, 50, 59.94 and 60 fps supported.
Off-speed frame rates up to 60 fps in 4K DCI, 120 fps in HD windowed.
Focus
Focus button turns on peaking, auto focus available using compatible lenses.
Iris Control
Iris wheel and touchscreen slider for manual iris adjustment on electronically controllable lenses, iris button for instant auto iris settings on compatible lenses so no pixel is clipped in film mode. Scene average auto exposure in video mode.
Screen Dimensions
5" 1920 x 1080.
Screen Type
LCD capacitive touchscreen.
Metadata Support
Automatically populated lens data from electronic Micro Four Thirds lenses. Automatic recording of camera settings and slate data such as project, scene number, take and special notes.
Controls
Touchscreen menus on 5 inch screen. 1 x Power Switch, 1 x Record Button, 1 x Stills Button, 1 x Scroll Wheel with push integrated into handgrip, 1 x ISO Button, 1 x White Balance, 1 x Shutter Button, 3 x software configurable Fn buttons, 1 x High Frame Rate (HFR) Button, 1 x Zoom Button, 1 x Menu Button, 1 x Play Button, 1 x Focus Button and 1 x IRIS Button.
Connections
Total Video Inputs
None.
Total Video Outputs
1 x HDMI Type A
Analog Audio Inputs
1 x mini XLR analog switchable between mic with phantom power support and line level (up to +14dBu).
1 x 3.5mm Stereo Input. Can also be used for Timecode input.
Analog Audio Outputs
1 x 3.5mm headphone jack.
Computer Interface
USB Type-C for external drive recording, software updates and media download.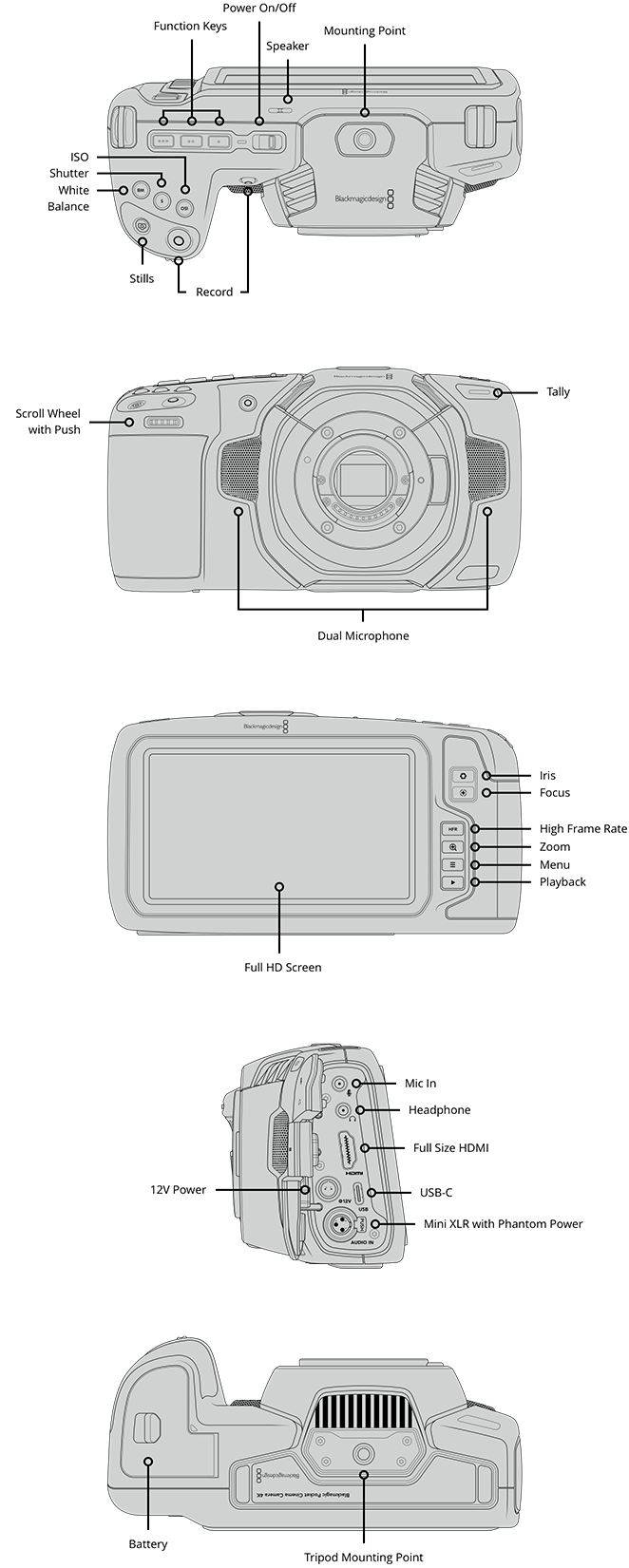 Audio
Microphone
Integrated stereo microphone.
Built in Speaker
1 x mono speaker.
Standards
SD Video Standards
None.
HD Video Standards
1080p23.98, 1080p24, 1080p25, 1080p29.97, 1080p30, 1080p50, 1080p59.94, 1080p60.
Ultra HD Video Standards
2160p23.98, 2160p24, 2160p25, 2160p29.97, 2160p30, 2160p50, 2160p59.94, 2160p60.
4K DCI Standards
4KDCIp23.98, 4KDCIp24, 4KDCIp25, 4KDCIp29.97, 4KDCIp30, 4KDCIp50, 4KDCIp59.94, 4KDCIp60.
Media
Media
1 x CFast and 1 x SD USH-II card slot for CinemaDNG Raw and ProRes Recording. Actual supported codec and frame rates are media dependent.
Media Format
Can format cards to ExFAT for Windows and Mac or HFS+ for Mac (file systems).
Supported Codecs
Codecs
CinemaDNG RAW, CinemaDNG RAW 3:1, CinemaDNG RAW 4:1, ProRes 422 HQ QuickTime, ProRes 422 QuickTime, ProRes 422 LT QuickTime, ProRes 422 Proxy QuickTime.
Storage Features
Storage Type
1 x CFast 2.0.
1 x SD UHS-II card.
Storage Rates
4096 x 2160
CinemaDNG RAW – 270 MB/s
CinemaDNG RAW 3:1 – 128 MB/s
CinemaDNG RAW 4:1 – 96 MB/s
3840 x 2160
Apple ProRes 422 HQ – 110 MB/s
Apple ProRes 422 – 73.6 MB/s
Apple ProRes 422 LT – 51 MB/s
Apple ProRes Proxy – 22.4 MB/s
1920 x 1080
Apple ProRes 422 HQ – 27.5 MB/s
Apple ProRes 422 – 18.4 MB/s
Apple ProRes 422 LT – 12.75 MB/s
Apple ProRes Proxy – 5.6 MB/s
Storage rates based on 30 frames per second.
Recording Formats
Lossless CinemaDNG RAW, RAW 3:1 and RAW 4:1 with film dynamic range at 4096 x 2160, 3840 x 2160 and 1920 x 1080. Apple ProRes 4096 x 2160, 3840 x 2160 and 1920 x 1080 with either film, video and extended video dynamic range.
Software
Software Included
Pocket Cinema Camera 4K Operating System.
DaVinci Resolve Studio on SD Card.
Blackmagic Camera Setup.
Power Requirements
Power Supply
1 x External 12V power supply.
External Power Input
1 x 2-pin locking connector.
Battery Type
Canon LP-E6.
Battery Life
Approximately 60 minutes.
Power
12V-20V
Physical Specifications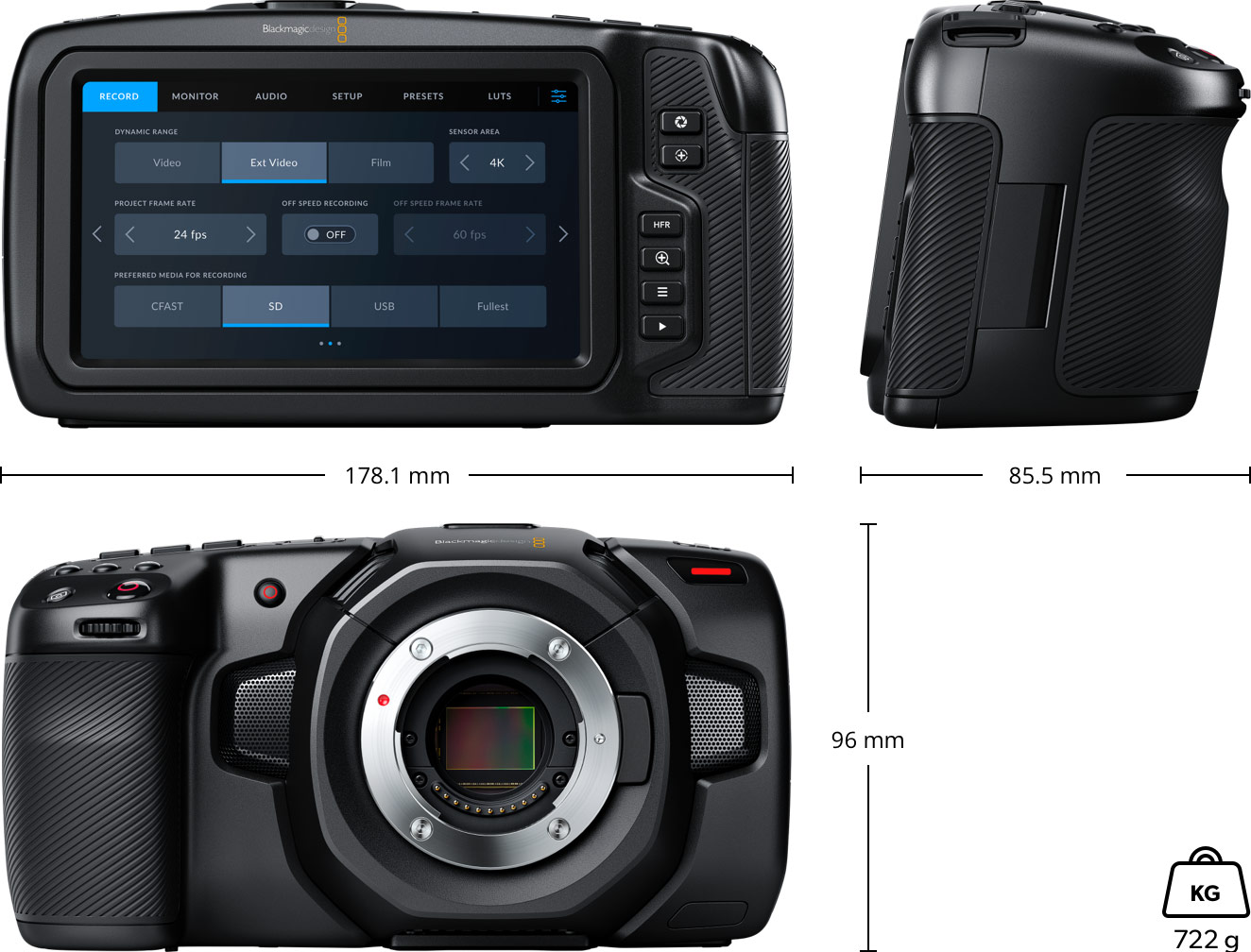 Environmental Specifications
Operating Temperature
0°to 40°C (32° to 104°F)
Storage Temperature
-20°to 45°C (-4° to 113°F)
Relative Humidity
0% to 90% non-condensing
What's Included
Blackmagic Pocket Cinema Camera 4K
Lens turret dust cap.
30W power supply with locking connector and international adapters.
SD card with software and manual.
Welcome card.
DaVinci Resolve Studio with activation key.